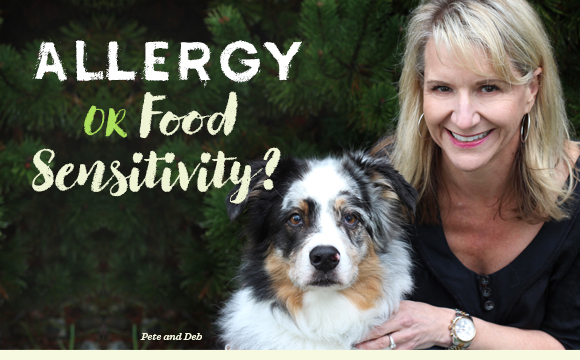 Dear Friends,
Many dogs have food-triggered ailments, primarily manifesting as itchy skin, rashes, chronic ear problems, diarrhea, gas or inflammatory bowel problems. Sometimes these intolerances are referred to as allergies, but true food allergies are quite rare. They are more likely to be food sensitivities.
Knowing exactly which foods is the tricky part. Elimination diets can be time consuming and hit or miss. When Deb's dog Pete was suffering from itchy red paws, she cut out all poultry and beef (the presumed culprits) and spent many hundreds of dollars on novel proteins such as venison and rabbit. A year later she tried the Nutriscan mail-in saliva test and discovered to her surprise that his symptoms were not from chicken, duck or beef, but were triggered by turkey, salmon, oatmeal, potatoes and barley. Now she can save money and keep Pete itch-free without guessing!
Nutriscan tests for 24 different foods, and is more accurate than a blood test. We're so delighted with how well it works that we are making the test available at an $18 savings from what it costs directly from the company. To pick up a test kit, drop by any one of our 12 local stores, and ask a friendly pet care specialist!
– Susan, Josh & Deb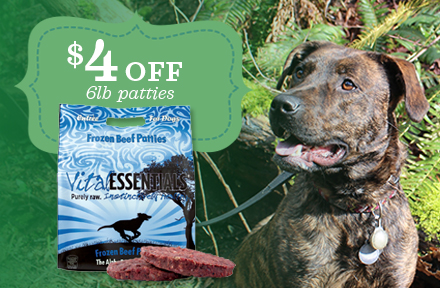 • Alpha prey model diet, with 45% organ meat
• all recipes veggie, grain and GMO free
Claire from our Greenwood store feeds Boadie like an alpha dog.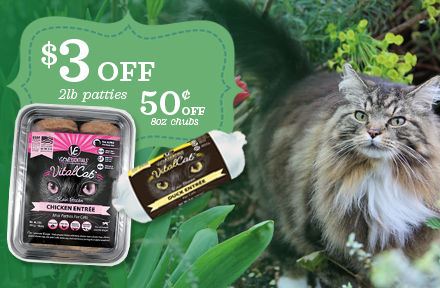 • with raw goat's milk and eggshell membrane for joint health in poultry recipes
Susan Moss's cat Ike loves high-moisture Vital Cat.
• made with sustainable chicken, dolphin-safe seafood and pumpkin
• made in a human food facility
•
enticing as a topper or bribe food
• all recipes are carb and GMO free
• add water: rehydrates in minutes
• Pureformance helps sustain energy with low glycemic chickpeas
• in rabbit, goat or fish
• Valor pairs meat protein with superfoods quinoa and lentils
• great for dogs with food sensitivities
• novel proteins – duck, kangaroo, whitefish, lamb, trout/salmon
• no chicken, no grains or potatoes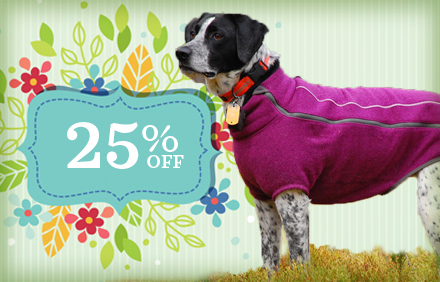 • get your dog ready to enjoy spring outdoors!
• large selection of styles and sizes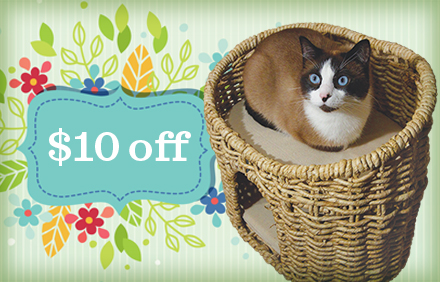 Urban Paw Wicker Kitty Condo
Our own kitties are completely in love with these beds. They're both a cozy perch for window bird watching and a secret hideaway. Sale! $69.99
Join us for special events

Anesthesia-free dental cleanings
Gentle, thorough anesthesia-free teeth cleanings are done by Scott Blanchard, our visiting technician from Canine Dental Services, using hand tools only. Cost, including exam, is $165.
Access the schedule and read more here.

Seattle Humane Society MaxMobile


The big yellow bus full of adoptable pets will be visiting our store. Stop by, and you just might meet your new best friend!

3 — 6PM, Queen Anne store

Greyhound Pets Inc. Meet & Greet


If you're considering adopting a Greyhound, stop by and meet volunteers from this rescue and learn more!
11AM — 1PM, Queen Anne store

Seattle Humane Society MaxMobile


The big yellow bus full of adoptable pets will be visiting our Mercer Island store for an opportunity to meet your new best friend!
3 — 6PM, Mercer Island store


Positive training classes
All The Best has teamed up with two extraordinary dog trainers, Eric Sanford and Becky Johnson, experts in helping people connect and communicate with their dogs using positive methods and confidence-building techniques.
These 6-week classes are $175. Access the full schedule and details here.
Ballard Bellevue Columbia City Edmonds Greenwood Issaquah
Kenmore Lake City Madison Mercer Island Queen Anne Redmond